Een vriend attendeerde me op enkele buitenaardse reacties op mijn logje
Kerken laten Palestijnse christenen verrekken
, dat
Stop de Bezetting
overgenomen had. Daarin betoogde ik o.a. dat dat niet verwonderdelijk was, aangezien het vooraleerst de christenen zijn geweest, in ons Beschaafde Westen, die de holocaust mogelijk hebben gemaakt. Een historisch feit. Op de gesp van een SS-er stond dan ook "Gott Mit Uns" - en de aangeroepen god was heus niet Allah. Welnu, wat de (ultra-)rechtse zionistische en filosemitische clubs op het internet er van maken is een teken aan de wand: het schuldgevoel zit nog diep.
Members of the extremist Westboro Baptist Church, known for its anti-gay and anti-Semitic rhetoric, protested in front of several Jewish institutions in New York. (11 augustus 2009)
Zó diep, dat de genoemde extremisten, op hun webstekken zoals
De Dagelijkse Standaard
,
Israned
en het
Israel Nieuws Blog
nu Gretta Duisenberg de schuld van de holocaust geven, of op zijn minst dat zij de hitlergroet zou hebben gegeven. Natuurlijk is dat materiaal voor de psychiater, want het is 100% gefantaseerd. Maar dat is wat schuldgevoelens met mensen doen. Met het verplaatsen van de schuld van de holocaust van 'de eigen groep' naar een hedendaags individu wiens mening je niet aanstaat - en zoals op dat soort websites al langer gebeurt: naar andere groepen en religies - is deze interne symbolische overdracht meestal het werk van een persoon die zijn probleem niet onder ogen wil komen. En wat de besproken horde in wezen doet wanneer je de oorzaak van de holocaust ontkent, je in wezen de hele holocaust ontkent.
Theologians Under Hitler
(preview)
"In the days after World War II, a convenient story was told of church leaders and ordinary Christians that defied the Nazis from the beginning. Recent research has uncovered a very different story. Rather than resisting, the greater part of the German church saw Hitler's rise in 1933 as an act of God's blessing, a new chapter in the story of God among the German people."
Enfin, de vrijheid-van-meningsuiters (behalve voor mij) en recht-op-beledigen-apostelen roepen meteen om een wet die historische feiten strafbaar moet maken, opdat ik voor altijd mijn mond zal houden over die vervelende en oncomfortabele historische feitjes die xenofoob Nederland het liefst in de doofpot ziet, zo neem ik aan. Daarmee pleiten ze tegelijk voor een dictatuur in Nederland, omdat het censureren en herschrijven van de geschiedenis toch heus een dictatuur nodig heeft om dergelijke ingrepen uit te voeren.
De copy-paster van het Israned logje op de Dagelijkse Standaard, ene 'Isser',
stelt
dat er in mijn log
"joden gebashed"
worden. Een aperte leugen. En dat in het log
"de holocaust wordt geridiculiseerd"
. Ook een aperte leugen. Integendeel, ik pleit juist voor het verspreiden van kennis over de holocaust opdat wij daarvan kunnen leren. Maar dat wil de genoemde horde blijkbaar, vreemd genoeg, tegengaan. Maar '
The Real Isser
' is dan ook beroepsleugenaar voor de zionistische zaak én de anti-islam lobby, en mijn enige vraag aan hem zou kunnen zijn voor wie hij liegt en hoeveel dat schuift. Verder is hij een rasechte ouwe antisemiet die deze keer van joden houdt (want Arabieren zijn ook semieten), die het eigenlijk niet waard is om aandacht aan te besteden.
In Nederland werden twee keer zoveel joden naar de vernietigingskampen gebracht als in België, en drie keer zoveel als in Frankrijk. Dat was de apotheose van 17 eeuwen christelijk antisemitisme en de daaruit voortvloeiende eeuwenlange vervolging.
Een historisch feit. Daar hebben noch 'Gretta' noch Palestijnen ook maar iets mee te maken. Maar overgaan tot het ontkennen van de oorzaken van de holocaust van de genoemde pro-Israël en anti-islam propagandeurs is in wezen net zo weerzinwekkend als ontkenning van de holocaust in het algemeen. Maar voor mij toch ook niet weer verassend wanneer je beseft
waar ze
vandaan komen
.
Hier volgt nog wat historisch beeldmateriaal en tekst:
Catholic clergy and Nazi officials, including Joseph Goebbels (far right) and Wilhelm Frick (second from right), give the Nazi salute. Germany, date uncertain. (Bayerische Staatsbibliothek)
Maarten Luther in 'Over de Joden en hun Leugens' (1543):
"Our Lord calls them a "brood of vipers"... Therefore the blind Jews are truly stupid fools... wherever they have their synagogues, nothing is found but a den of devils in which sheer self-glory, conceit, lies, blasphemy, and defaming of God and men are practiced most maliciously... they are nothing but thieves and robbers who daily eat no morsel and wear no thread of clothing which they have not stolen and pilfered from us by means of their accursed usury... Did I not tell you earlier that a Jew is such a noble, precious jewel that God and all the angels dance when he farts?... we must avoid confirming them in their wanton lying, slandering, cursing and defaming. Nor dare we make ourselves partners in their devilish ranting and raving by shielding and protecting them, by giving them food, drink and shelter, or by other neighborly acts... gentle mercy will only tend to make them worse and worse, while sharp mercy will reform them but little. Therefore, in any case, away with them!" [etcetera]
Ludwig Mueller, a Nazi sympathizer, was elected to the position of Reich Bishop in 1933 as Hitler attempted to unite regional Protestant churches under Nazi control. Berlin, Germany, November 17, 1933. (United States Holocaust Memorial Museum)
"Without centuries of Christian antisemitism, Hitler's passionate hatred would never have been so fervently echoed...because for centuries Christians have held Jews collectively responsible for the death of Jesus. On Good Friday Jews, have in times past, cowered behind locked doors with fear of a Christian mob seeking 'revenge' for deicide. Without the poisoning of Christian minds through the centuries, the Holocaust is unthinkable.[17] The dissident Catholic priest Hans Küng has written that "Nazi anti-Judaism was the work of godless, anti-Christian criminals. But it would not have been possible without the almost two thousand years' pre-history of 'Christian' anti-Judaism..." (Aartsbisschop Robert Runcie)
Oprichter van de SGP en nazi-collaborateur dominee G.H. Kersten (
lees verder
)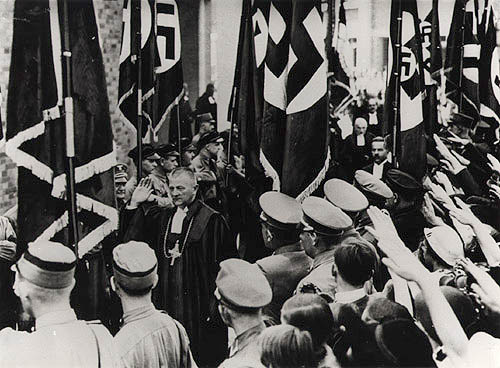 The leader of the German Christian movement was Pastor Ludwig Muller.  Muller was appointed Hitler's advisor on Protestant affairs in 1933. Muller was an Alte Kampfer, a navel chaplain in World War One, a member of the Nazi party, and knew Hitler since the 1920's. A pastor from eastern Prussia, Muller was elected Reich Bishop in 1933.  Despite having virtually no support within the Protestant community, he instituted several policies that attempted to diminish the prominence of the Lutheran Church. Muller was easily the most committed and effective leader of the pro-Hitler Protestant movement.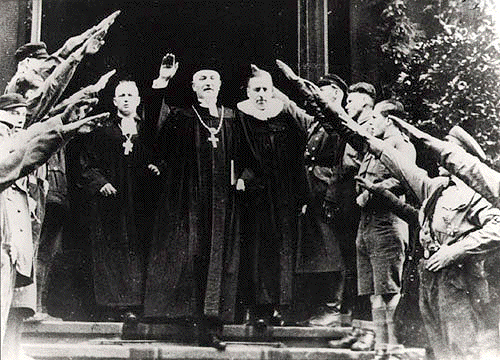 National Bishop Friedrich Coch giving a Hitler greeting in Dresden, 10 December 1933. Dresden pastor Friedrich Coch is one of the leading men of the "German Christians" in Saxony. The NSDAP's Gau consultant for church matters since 1932,
he is elected to the office of state bishop by the "Brown Synod" in August 1933.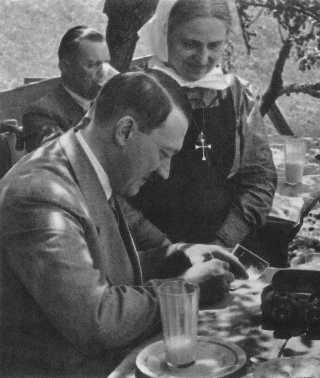 Een handtekening voor een christelijke fan (1935)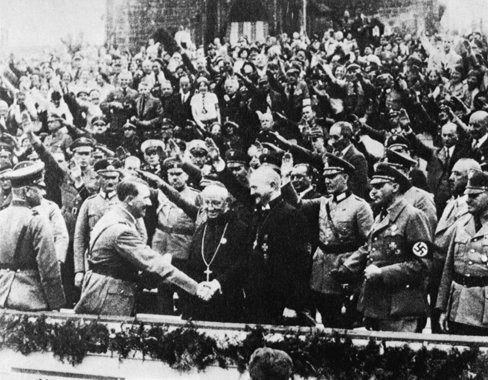 Hitler greets Muller the "Bishop of the Reich" and Abbot Schachleitner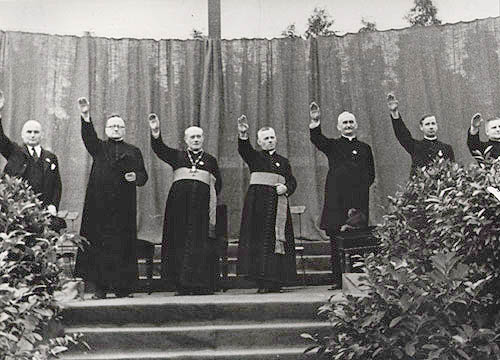 Priests giving the Hitler salute at a Catholic youth rally in the Berlin-Neukolln stadium in August 1933.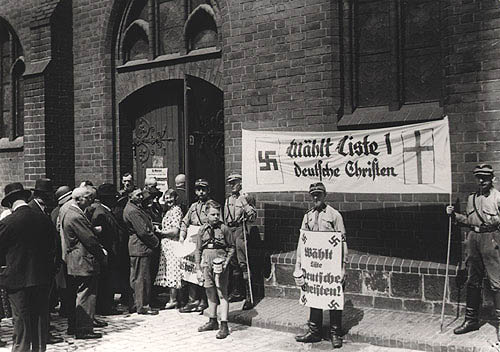 SA storm troopers with placards of the "German Christians," Berlin, July 1933. On July 14, 1933, Hitler's government approves a new charter for the Protestant church. With massive intervention by the NSDAP, the church elections scheduled only a short time later result in a resounding victory for the "German Christians." Hitler himself appeals to all Protestant Christians in a radio speech on the eve of the election to vote for the "German Christians." With its slogan "church must remain church".
Meer informatie:
•
Doodnormaal katholiek antisemitisme
•
Anne Frank Stichting: Tussen antizionisme en antisemitisme
•
Uitpers (BE): Het proces van het katholieke antisemitisme
(boekbespreking)
•
The Great Scandal: Christianity's Role in the Rise of the Nazis
en
begeleidende citaten
.
•
Lest We Forget: In February, 1972, Billy Graham and Richard Nixon Discuss Jews, in a Paranoid and Anti-Semitic Fashion, in the Oval Office
•
Wikipedia: Christianity and antisemitism
•
"God hates Jews!" Christian Antisemitism and Our Response
•
Catholic Timeline on Antosemitism
•
Christen-nazi artefacts
•
GeenStijl video: christelijke college Schaersvoorde in Aalten