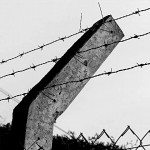 "Goyim [niet-joden] zijn alleen geboren om ons te dienen. Los daarvan, hebben zij geen plaats in deze wereld; alleen om het volk van Israël te dienen." --Rabbijn Ovadia Yosef, de geestelijk leider van de Shas partij (11 zetels), 11 oktober 2010 2010
Israël gaat een groot deportatiekamp bouwen in de Negev-woestijn voor duizenden Afrikaanse illegalen die het wil uitzetten. Maar niet voor de duizenden Thaise, Chinese en Filippijnse illegalen, die al jarenlang worden uitgebuit door Israëlische boeren.
Waarom zou dat zijn? Vanwege de huidskleur? Misschien willen de Afrikanen geen
methamfetamine
gebruiken om harder en langer te kunnen werken?
De
NRC
is de enige Nederlandse krant die erover
bericht
- maar het woord "kamp", en dat het gaat om Afrikanen, wordt in tegenstelling tot de buitenlandse mainstream pers verzwegen. NRC meldt dat "duizenden illegale migranten ... zullen worden gehuisvest in de zuidelijke Negev-woestijn." Gehuisvest?
» Thaise gastarbeiders in Israël systematisch uitgebuit» Exploited Thais in no man's land
As Israeli rockets whizzed overhead bombarding Gaza, migrant labourers were ordered to work on while their employer took his dogs to safety.
» Netanyahu: Illegal African immigrants - a threat to Israel's Jewish character
A group of children of foreign workers that could be deported from Israel by a decision of the Israeli governament. People took the streets of Tel Aviv to protest against this possibility. August 14 2010
Israel to expel 400 migrant workers' kids
Monday, August 2, 2010 LOS ANGELES TIMES
JERUSALEM — Israel moved Sunday to deport the offspring of hundreds of migrant workers, mostly small children who were born in Israel, speak Hebrew and have never seen their parents' native countries.
Prime Minister Benjamin Netanyahu said the new policy was intended to stem a flood of illegal aliens, whose children receive state-funded education and health care benefits, and to defend Israel's Jewish identity.