'Pro-Wilders demonstratie in Amsterdam'

AMSTERDAM (ANP) - Ruim honderd extreemrechtse Engelsen willen op 30 oktober demonstreren vóór PVV-leider Geert Wilders. Dit concludeert antiracismeorganisatie Nederland Bekent Kleur op grond van een pagina van Facebook van de English Defence League (EDL)*.

De groep staat volgens Nederland Bekent Kleur bekend om demonstraties met een gewelddadig karakter. "De groep bestaat onder meer uit racistische skinheads en voetbalhooligans", schrijft Nederland Bekent Kleur in een vrijdag verspreide nieuwsbrief.

De pro-Wildersdemonstratie is gepland rond de rechtszaak die tegen Wilders loopt. Hij wordt verdacht van het aanzetten tot haat en discriminatie wegens godsdienst en ras. Nederland Bekent Kleur heeft zich samen met Turkse, Antilliaanse en Marokkaanse migrantenorganisaties in de zaak gevoegd als benadeelde partij, vermeldt de nieuwsbrief.
*) Met zulke vrienden hebben Wilders & Israël geen vijanden meer nodig: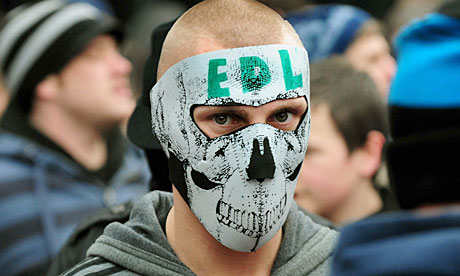 Paul Ray, originator of the English Defence League, has found a new friend: Nick Greger, the German former neo-Nazi who is now a close associate of the Northern Ireland Loyalist Johnny Adair. On Ray's blog, he and Greger pose together with a t-shirt glorifying Loyalist terrorist organisations as part of a gallery announcing the launch of "The Ancient Order of Templar Knights".
"Tommy Robinson" – spokesperson for the English Defence League (EDL) and a founder member of the group – is a Nazi. He has been exposed as British National Party (BNP) member Stephen Yaxley-Lennon, from Bedford. He joined the BNP in 2004.