In een editorial van het gerenommerde
Foreign Policy
magazine toont Sasha Polakow-Suransky in het terzake artikel
Gold stones, glass houses
aan dat de pogingen van de Israëlische regering om de Zuid-Afrikaanse rechter Richard Goldstone te demoniseren, vooral haar eigen hypocrisie omtrent Israël's ruimhartige collaboratie met het voormalige Zuid-Afrikaanse Apartheidsregime ontmaskeren.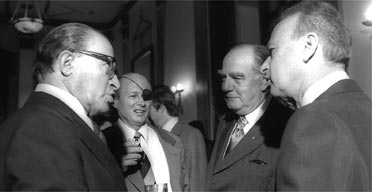 During the second world war the future South African prime minister John Vorster was interned as a Nazi sympathiser. Three decades later he was being feted in Jerusalem. (South Africa's prime minister John Vorster (second from right) is feted by Israel's prime minister Yitzhak Rabin (right) and Menachem Begin (left) and Moshe Dayan during his 1976 visit to Jerusalem.)
Citaten:
Goldstone's apartheid-era judicial rulings are undoubtedly a blot on his record, but his critics never mention the crucial part he played in shepherding South Africa through its democratic transition and warding off violent threats to a peaceful transfer of power -- a role that led Nelson Mandela to embrace him and appoint him to the country's highest court.
More importantly, Ayalon's and Rivlin's moralism conveniently ignores Israel's history of arming the apartheid regime from the mid-1970s until the early 1990s. By serving as South Africa's primary and most reliable arms supplier during a period of violent internal repression and external aggression, Israel's government did far more to aid the apartheid regime than Goldstone ever did.
The Israel-South Africa alliance began in earnest in April 1975 when then-Defense Minister
Shimon Peres
signed a secret security pact with his South African counterpart,
P.W. Botha
. Within months, the two countries were doing a brisk trade, closing arms deals totaling almost $200 million; Peres even offered to sell Pretoria nuclear-capable Jericho missiles.
By 1979, South Africa had become the Israeli defense industry's single largest customer
, accounting for 35 percent of military exports and dwarfing other clients such as Argentina, Chile, Singapore, and Zaire.
(...)
In fact, Israel was profiting handsomely from selling weapons to Pretoria at the time. Writing in the New York Times,
Thomas Friedman
estimated that the two countries did $400 mllion to $800 million of business in the arms sector in 1986. According to declassified South African documents, the figure was likely even greater: A single contract for modernization of South African fighter jets in the mid-1980s amounted to "approximately $2 billion," and arms sales in 1988 -- one year after Israel imposed sanctions against the apartheid regime -- exceeded $1.5 billion. As the former head of the South African Air Force Jan van Loggerenberg told me bluntly: "Israel was probably our only avenue in the 1980s."
Declassified South African arms-procurement figures (which exclude lucrative cooperative ventures and shared financing arrangements) reveal the full extent of Netanyahu's lie. The "independent IMF figures" he cited (which excluded diamonds and arms) suggested trade was a minuscule $100 million annually. It was actually between five to 10 times that amount -- depending on the year -- making the apartheid regime Israel's second- or third-largest trading partner after the United States. Not all of the weapons Israel sold were used in external wars, and
there is no denying that Israeli arms helped prolong the rule of an immoral and racist regime.
» Foreign Policy:
Gold stones, glass houses
Achtergronden:
» The Guardian:
Brothers in arms - Israel's secret pact with Pretoria
During the second world war the future South African prime minister John Vorster was interned as a Nazi sympathiser. Three decades later he was being feted in Jerusalem. In the second part of his remarkable special report, Chris McGreal investigates the clandestine alliance between Israel and the apartheid regime, cemented with the ultimate gift of friendship - A-bomb technology.
» thepeoplesvoice.org:
When Israel Was Apartheid's Open Ally
Over de geschiedenis en samenwerking van Israël en Zuid-Afrika
Verwerpelijk...
Zelfverdediging...