Voor het eerst in de geschiedenis noemt de VS, in een jaarlijks rapport van het State Department aan het Congres, de aanslagen van kolonisten op Palestijnen
"terrorisme"
. Opzienbarend nieuws dus. Maar niet in Nederland. Onze media zwijgen unaniem.
Dat is logisch. Want niet alleen steunen Nederlandse organisaties deze terroristen - ideologisch, financieel en door hun misdaden te verzwijgen of zelfs goed te praten - maar ook politieke partijen. En dit nieuws zou het stilzwijgen over en onze steun aan de joodse terroristen in de kaart spelen. Dat publiceren we dus niet, hebben de redacties besloten.
Bijvoorbeeld
Christenen voor Israël pompt maandelijks geld in nederzettingen
via haar zogeheten Ondernemersplatform, en in de zelfs door Israël illegaal bestempelde
outposts
- om er o.a. de uitbreiding mee te financieren. Afgezien daarvan maakt Christenen voor Israël ongeveer
1,5 miljoen euro winst per jaar
met de verkoop van producten die door de illegale kolonisten op gestolen land worden verbouwd. En plegen deze zionistische christenen
fraude
door te beweren dat deze producten uit Israël komen. In ons zogenaamd vredelievende Den Haag is dat helemaal geen bezwaar. In tegendeel, dat wordt door de overheid beloond met
belastingvoordeel
.
"Israël is nu eenmaal heilig"
schreef GroenLinks mij ooit, dus kaarten ze het in Den Haag wel aan, maar
"zonder te veroordelen"
. Dat ligt natuurlijk weer anders wanneer het misdaden van Arabieren betreft, want zo racistisch zijn we wel. Links of rechts, in het geval van Israël durft niemand een vuist te maken.
Aanslagen op Palestijnen door kolonisten
, volgens ons voorbeeldland nu officieel terroristen, worden nog steeds massaal verzwegen. En wat vindt onze minister Uri Rosenthal daarvan? Niets. Het gaat namelijk om joodse terroristen en niet om Arabieren. Rosenthal is niet thuis. Waarschijnlijk op vakantie, bij familie in Israël.
Shin Bet, Israel's domestic intelligence agency, says that Jewish extremists are forming new "terrorist" groups that are deliberately targeting Palestinians and Israeli peace activists, intelligence sources were quoted as saying yesterday. (The Independent)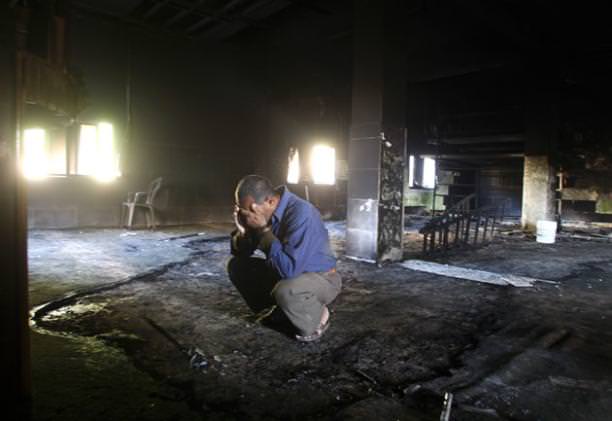 A group of fundamentalist Israeli settlers broke into a mosque, on Sunday at night, in Beit Fajjar, near Bethlehem, and set it ablaze. (4 oktober 2010)