De in 2001 overleden mensenrechtenactivist, overlevende van Bergen-Belsen en Israëlisch hoogleraar organische chemie aan de Hebreeuwse Universiteit in Jeruzalem
Israël Shahak
, meende dat de cyclus van geweld in Israël mede voortkwam uit de weigering van de joods-Israeli's om zichzelf als daders te zien. "De staat cultiveert het slachtofferschap. In dit land wordt het slachtofferisme geritualiseerd in allerlei vormen, op school, in de synagoge, op straat, in de media en de literatuur. De joden in Israël kunnen zich alleen definiëren als slachtoffer. Het is een bekend psychologisch fenomeen, de geschiedenis zit vol met daders die zichzelf als slachtoffer beschouwen. Het behoort tot het gebied van de pathologie. Het is een schizofrene reactie, die normaal menselijk gedrag onmogelijk maakt. De wereld moet de joods-Israeli's dan ook niet vertroetelen, maar tot de orde roepen. Anders gaat hun geweld ongestoord door. Daders die zichzelf slachtoffer beschouwen zijn niet in staat de ander te zien. Ze kunnen zich niet verplaatsen in hun positie."
(uit interview met Shahak in
De Oneindige Oorlog
, Stan van Houcke, 2009)
Een samenleving zonder diep doorleefde normen en waarden is gedoemd zichzelf te vernietigen. De grootste vijand van "de Joodse staat" is zijzelf.
De Beit Yisraelsynagoge in Netanya, in Noord-Israël, werd op drie vrijdagavonden (het begin van de sabbat) bekogeld met stenen. Jongeren schreeuwden leuzen naar de leden van de conservatieve gemeenschap, scholden hen uit voor heidenen en eisten dat zij het gebied zouden verlaten. "Een 21e-eeuwse pogrom", noemt Lion Ben Tsur, directeur van een meer liberale joodse gemeenschap in Netanya de aanvallen.

Op 13 april sneuvelden de ruiten van een liberale synagoge in Ra'anana, met als gevolg dat de synagoge, waaronder de speelruimte voor kinderen, bezaaid lag met glasscherven. Op de buitenmuur van het gebouw spoten de daders met graffiti de woorden "Het is begonnen". Het was de derde keer in minder dan een jaar tijd dat het gebedshuis door vandalen werd aangevallen.
Aldus het
Reformatorisch Dagblad
dat een artikel in
Haaretz
aanhaalt en vertaalt. Maar op de RefDag-redactie ging wel het rode potlood door het gedeelte in
Haaretz
dat uitwijdt over de rol van de overheid in Netanya, die de bouw van liberale joodse synagogen tegenwerkt door o.a. geen vergunningen af te geven. Waarom RefDag dit censureert? Omdat niemand in Nederland hoeft te weten dat wat de christen-zionisten als "democratische"
heilstaat
beschouwen, zichzelf ondermijnt door haar bindende fundament, het judaïsme met haar humanistische grondslag, te vernietigen.
Censuur in de Nederland nieuwsmedia treedt in werking bij negatieve berichten over joden en Israël, dus zeker wanneer joden kerken in brand steken. Zelfs de christelijke kranten (RefDag, Nederlands Dagblad, Trouw), die zich altijd vooraan in de rij verdringen wanneer het niet om joods "vandalisme" maar om "moslimgeweld" of alleen al een gevoel dreiging gaat, hielden bij onderstaande gebeurtenis de lippen stijf op elkaar.
It never happened.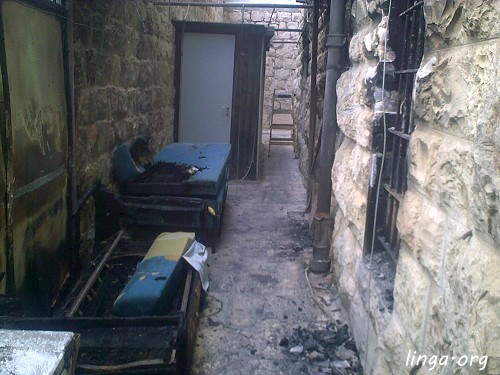 Jerusalem Alliance Church Ministry Center (JACMC) attacked (29 oktober 2010)
Israeli settlers burn church in Jerusalem
A hundred year old church was burned Friday by right-wing Israeli settlers, who broke a number of windows of the church and hurled Molotov cocktails inside.
The damage to the church was substantial, with burn damage throughout the first floor of the building.
The church was built in Jerusalem in 1897, and housed the Palestinian Bible College until 1947, when parishioners were pushed out by Jewish armed gangs during the violence accompanying the creation of the state of Israel.
Christians make up 2% of the population of both Israel and the Palestinian Territories – the number used to be around 15%, but many Christians from the Holy Land have emigrated due to the harsh conditions of the Israeli occupation, and discrimination against them by the Israeli state.
This is not the first time that Israeli right-wingers have destroyed churches and church property – a number of Chrisitan churches were destroyed during the second initfada (uprising) that began in 2000, and many more were destroyed by Israeli forces during the 1948 and 67 wars.
In 2006, an Israeli couple tried to firebomb an ancient church in Nazareth, the city where Chrisitans believe that Jesus Christ lived 2000 years ago. An Israeli court which tried the case failed to convict the couple of any charges.
A leader in the church attacked on Friday, Zachariah al-Mashriqi, told reporters that the attack on the church was a clear attempt to provoke Palestinians to respond in anger. He urged Palestinian Christians to respond to the attack with virtue and patience.
Al-Mashriqi urged the Israeli government to act responsibly and condemn the attack, and work on investigating the attack to find out who was involved and actually file charges in the case. He asked the Israeli government to protect holy sites in the city of Jerusalem, as these sites come under increasing attack by Israeli settlers. (
IMEMC
)
Door zionisten gedeeltelijk gesloopte orthodox kerk van Ma'lul, een christelijk Palestijns dorp dat door Israel met de grond werd gelijk gemaakt om te voorkomen dat de rechtmatige eigenaren daar zouden terugkeren. Zoals te zien is aan de uitwerpselen wordt het kerkgebouw gebruikt als koeienstal door de bewoners van de nabijgelegen kibboets Kefar ha-Choresh. Het spreekt voor zich dat dit nooit met een synagoge zal gebeuren in 'het heilige land van Jezus'.
This incident highlights two very important points:
Firstly the very real threat that Israel poses to all of us. Israel has long been seen as the Western outpost in the Middle East; but it has shown increasingly that it is a law unto itself. The stealing of Western passports to undertake a cold-blooded murder is one example; their attack on a Christian house of worship is another.
The second point that this incident highlights is the racist bias of the Western media and the fact that Israel controls all our major media outlets. The fact that there has been no condemnation by any international body against the attack on the church and no attempt to even report the incident in the West is proof of this. (
Middle East Monitor
)
Hebron terrorists getting ready to
attack
elderly Palestinian couple.
Links:
»
Israel's self-destruction: Reunifying the Palestinian nation
(Global Research, Jonathan Cook, November 11, 2010)
»
Letting Israel Self-Destruct
(Washington Post, Daniel Seidemann, August 26, 2004)
»
Israel's Self-Destruction as a Jewish State
(Truthdig, William Pfaff, May 28, 2008)
»
Gilad Atzmon: Israel will implode
(video, July 16, 2009)