"The government had failed to exploit internationally favorable situations, such as the Tianamen Square in June 1989 when world attention and the media were focused on China, to carry out large-scale expulsions. ... I still believe that there are opportunities to expel many people."
Benjamin Netanyahu op de Bar Ilan University, 16 november 1989
De gemeenteraad van Jeruzalem heeft het licht op groen gezet voor de bouw van twintig woonsten op de plaats waar momenteel een Palestijns hotel staat in Oost-Jeruzalem. Dat melden verscheidene Israëlische media dinsdag. Het nieuws komt er op het ogenblik dat de Israëlische premier Benjamin Netanyahu de Amerikaanse president Barack Obama ontmoet in het Witte Huis.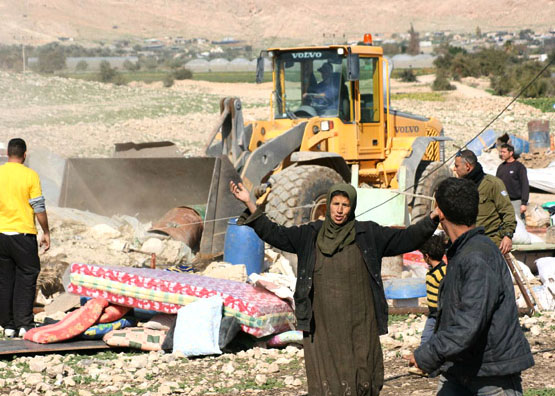 Volgens de openbare radio en de website Ynet heeft de gemeente Jeruzalem alle noodzakelijke toelatingen gegeven voor de afbraak van hotel Shepherd in de Palestijnse wijk Sheikh Jarrah om er de bouw mogelijk te maken van twintig woningen voor Israëlische families. Het project werd gelanceerd door de joodse miljonair Irving Moskowitz [zie video].
Die financiert verschillende ultra-nationalistische organisaties die tot doel hebben Israëliërs aan te moedigen zich te vestigen in Arabische wijken in Oost-Jeruzalem.
Het fiat komt er op een moment dat Netanyahu in de Verenigde Staten probeert de crisis te bezweren die ontstond na de aankondiging van de bouw van 1.600 woningen in een andere wijk in Oost-Jeruzalem. (bron:
Metro Time
België)
VIDEO:
Gambling with Conflict: How settlers control Israeli policy
Max Blumenthal presents a disturbing inside look at the largest annual gathering of radical Jewish settlers. A Mondoweiss exclusive with David Jacobus and Jesse Rosenfeld. Mondoweiss is a news website devoted to covering American foreign policy in the Middle East, chiefly from a progressive Jewish perspective.